Are you ready to embark on an unforgettable adventure with your loved ones? Family travel provides an excellent opportunity to bond, create lasting memories, and explore the world together. Whether you're planning a weekend getaway or a month-long expedition, this comprehensive guide will equip you with everything you need to know to ensure a smooth and enjoyable journey. From family-friendly destinations to travel tips, accommodation options, and exciting activities, let's dive into the world of family travel and make your next trip an unforgettable experience for everyone.
Family-Friendly Destinations
When it comes to family travel, choosing the right destination is crucial. Here are some of the best destinations that cater to families with children for family travel:
Best destinations for family travel
Discover the magic of Disneyland in Anaheim, California.
Explore the enchanting world of Orlando, Florida, home to Walt Disney World and Universal Orlando Resort.
Visit the vibrant city of Tokyo, Japan, and experience the unique blend of tradition and modernity.
Immerse yourself in the fairy-tale atmosphere of Copenhagen, Denmark, and enjoy the family-friendly attractions like Tivoli Gardens and the Little Mermaid statue.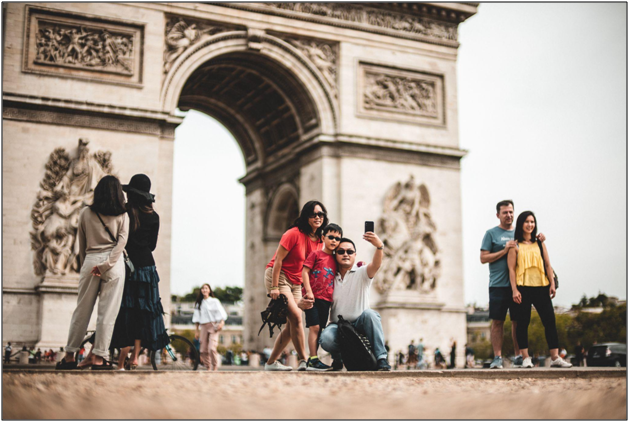 Family-friendly vacation spots
Unwind on the beautiful beaches of Cancun, Mexico, and indulge in various water sports and family-friendly resorts.
Experience the wonders of nature in Costa Rica, with its lush rainforests, stunning waterfalls, and diverse wildlife.
Enjoy the sunny paradise of the Gold Coast, Australia, with its pristine beaches and thrilling theme parks.
Explore the historical and cultural treasures of Rome, Italy, while indulging in delicious gelato.
Places that cater to families with children
Vancouver, Canada, offers a plethora of family-friendly attractions, including Stanley Park, Science World, and the Vancouver Aquarium.
The city of Barcelona, Spain, boasts a rich history, beautiful architecture, and a variety of attractions suitable for children, such as Park Güell and the Barcelona Zoo.
Discover the magic of Lapland, Finland, where you can meet Santa Claus, go on reindeer sleigh rides, and witness the Northern Lights.
The island paradise of Maui, Hawaii, provides endless opportunities for family adventures, from snorkeling with sea turtles to exploring the Haleakala National Park.
Family Travel Tips
Traveling with kids can be a rewarding experience, but it also requires careful planning and preparation. Here are some valuable tips to ensure a smooth family travel experience:
Tips for traveling with kids
Pack essential items such as snacks, entertainment, and comfort items to keep your children engaged and comfortable during the journey.
Create a flexible itinerary that allows for breaks and downtime, considering the needs and interests of each family member.
Research child-friendly attractions and activities at your destination to ensure there are plenty of options to keep your children entertained.
Advice for a smooth family travel experience
Involve your children in the travel planning process, allowing them to choose activities or attractions that interest them.
Pack light but don't forget the essentials such as sunscreen, insect repellent, and medications.
Maintain a positive attitude and be prepared for unexpected situations. Flexibility is key when traveling with kids.
Essential considerations for family trips
Check the passport validity for each family member to ensure there are no issues when crossing borders.
Research local customs and traditions to educate your children and promote cultural awareness.
Consider travel insurance to protect your family against any unforeseen circumstances.
Family Travel Activities
One of the highlights of family travel is the opportunity to engage in fun activities that everyone can enjoy. Here are some ideas to make your family trip memorable:
Fun activities for the whole family while traveling
Take a bike tour and explore the city or countryside together, enjoying the fresh air and beautiful scenery.
Visit a local market and let your children pick out ingredients for a cooking class or picnic.
Go on a scavenger hunt, discovering hidden gems and landmarks in your destination.
Engaging experiences for kids and adults
Visit interactive museums or science centers where children can learn while having fun.
Take a family cooking class and learn how to prepare local dishes together.
Go on a wildlife safari and witness majestic animals in their natural habitat.
Family-friendly attractions and entertainment
Enjoy the thrill of amusement parks with rides and shows suitable for all ages.
Attend family-friendly theater performances or musicals that will captivate both children and adults.
Explore aquariums and zoos to get up close and personal with fascinating creatures from around the world.
Kid-Friendly Accommodation
Choosing the right accommodation is crucial for a comfortable and enjoyable family trip. Here are some options that cater to families:
Accommodation options suitable for families
Family suites or interconnected rooms in hotels provide ample space for everyone to relax and unwind.
Consider staying in vacation rentals or apartments with kitchen facilities, giving you the flexibility to prepare meals for your family.
Some resorts offer dedicated kids' clubs and entertainment programs, ensuring your children have a fantastic time during their stay.
Hotels and resorts with family amenities
Look for hotels that offer amenities such as swimming pools, playgrounds, and game rooms to keep your children entertained.
Some resorts provide complimentary childproofing services, offering peace of mind for parents with young children.
Check if the hotel offers babysitting services or activities specifically designed for different age groups.
Vacation rentals and family-friendly accommodations
Renting a cabin in the mountains or a beachfront house can provide a cozy and private retreat for your family.
Look for accommodations with childproofing features, such as safety gates and socket covers.
Research family-friendly resorts that offer activities and facilities suitable for children of all ages.
Family Travel Itineraries
Planning your family travel itinerary requires consideration of the interests and abilities of each family member. Here are some ideas for crafting the perfect family travel plan:
Sample itineraries for family trips
Explore the wonders of Europe: Start in London, visit Paris and the Eiffel Tower, and end the trip in Rome, discovering ancient history and delicious gelato along the way.
Road trip across the United States: Drive along the scenic California coast, visit the Grand Canyon, and end the journey in New York City, experiencing the hustle and bustle of the Big Apple.
Island-hopping in Southeast Asia: Begin in Bali, immerse yourself in the culture of Ubud, then head to the pristine beaches of Phuket, Thailand, and end the trip in the vibrant city of Singapore.
Suggested routes and plans for family travel
Embark on a safari adventure in South Africa, spotting the "Big Five" and exploring the stunning landscapes of Kruger National Park.
Discover the ancient wonders of Egypt, from the pyramids of Giza to the historical treasures of Luxor and the relaxing beaches of Sharm El Sheikh.
Cruise through the picturesque fjords of Norway, enjoying the breathtaking scenery and visiting charming coastal towns.
Optimizing experiences for different age groups
Plan activities that cater to the interests and abilities of each family member, ensuring everyone has an enjoyable time.
Balance educational and interactive experiences with downtime for relaxation and exploration.
Consider age-appropriate attractions and ensure there are options for children of different ages to engage and participate.
Traveling with Infants and Toddlers
Traveling with young children requires extra preparation and attention to detail. Here are some tips for a smooth journey with infants and toddlers:
Tips for traveling with young children
Pack essential baby supplies such as diapers, formula, and baby food, or research local options if traveling to a foreign country.
Bring along familiar items like their favorite toys or blankets to provide a sense of comfort and security.
Schedule travel during nap times or evenings to maximize the chances of your child sleeping during the journey.
Baby-friendly travel essentials and gear
Invest in a lightweight and compact stroller that is easy to maneuver and transport.
Consider using a baby carrier for hands-free mobility in crowded places or during outdoor activities.
Pack a portable changing mat and diaper bag essentials for quick and convenient diaper changes on the go.
Navigating airports and transportation with infants
Check with airlines for specific policies regarding traveling with infants, including guidelines for bringing strollers or car seats on board.
Arrive at the airport early to allow ample time for security checks and boarding procedures.
Request bulkhead seating when possible, as it provides extra legroom and space for a bassinet.
Educational and Cultural Experiences
Family travel is an excellent opportunity to introduce your children to new cultures and enhance their educational growth. Here are some ways to create educational and cultural experiences:
Learning opportunities for families during travel
Visit local museums that offer interactive exhibits and educational programs for children.
Explore historical sites and landmarks, providing a deeper understanding of the local culture and history.
Engage in cultural activities such as cooking classes, language lessons, or traditional craft workshops.
Cultural immersion for children
Attend local festivals or events to experience the traditions, music, and cuisine of the destination.
Encourage your children to interact with local children, fostering cross-cultural friendships and understanding.
Try traditional activities or games that are unique to the destination, allowing your children to immerse themselves in the local culture.
Museums, historical sites, and interactive learning
Visit world-renowned museums such as the Louvre in Paris, the Smithsonian Institution in Washington, D.C., or the British Museum in London.
Explore historical sites like the Colosseum in Rome, the Acropolis in Athens, or the Great Wall of China.
Look for interactive learning experiences, such as science centers or children's museums, where kids can engage in hands-on activities and experiments.
Outdoor and Nature Activities
Connecting with nature and the great outdoors can be a fantastic experience for the whole family. Here are some outdoor activities that will create lasting memories:
Family adventures in the great outdoors
Go on a family camping trip, roasting marshmallows, telling stories around the campfire, and stargazing.
Take a family hike in a national park, exploring trails and observing wildlife in their natural habitats.
Rent bicycles or kayaks and enjoy a day of outdoor exploration in a scenic location.
National parks and nature exploration with kids
Visit iconic national parks like Yellowstone in the United States, Banff in Canada, or Serengeti in Tanzania.
Participate in guided nature walks or ranger-led programs designed specifically for families.
Engage in activities like birdwatching, geocaching, or nature photography to foster a love for the environment.
Camping, hiking, and wildlife encounters
Set up a family campsite near a lake or river, allowing your children to swim, fish, or paddle in the water.
Choose kid-friendly hiking trails that offer stunning views or interesting features like waterfalls or caves.
Join a wildlife tour or safari, spotting animals in their natural habitats and learning about conservation efforts.
Family-Friendly Dining
Food is an essential part of any travel experience, and finding family-friendly dining options ensures that everyone can enjoy the local cuisine. Here are some tips for dining with your family:
Restaurants and eateries suitable for families
Look for restaurants with kid-friendly menus or options that cater to different dietary preferences.
Choose establishments with a relaxed and welcoming atmosphere, where children are made to feel comfortable.
Research family-friendly restaurants that provide entertainment for kids, such as play areas or interactive dining experiences.
Kid-friendly menus and dining options
Opt for restaurants that offer smaller portions or shareable dishes, allowing children to sample a variety of flavors.
Check if the restaurant provides high chairs, booster seats, or changing facilities for your convenience.
Consider dining at local markets or food stalls, where you can find a wide array of affordable and flavorful options.
Local cuisine experiences for all ages
Encourage your children to try local dishes and delicacies, introducing them to new flavors and culinary traditions.
Join cooking classes or food tours that focus on family-friendly experiences, allowing you to learn about the local cuisine together.
Look for restaurants that offer cultural performances or themed dining experiences, providing entertainment while enjoying a meal.
Family Travel Safety
Ensuring the safety and well-being of your family during travel is of utmost importance. Here are some essential tips to keep in mind:
Safety tips and precautions for family travel
Research the safety conditions of your destination before traveling and stay informed about any travel advisories or warnings.
Teach your children basic safety rules, such as staying close to you in crowded places and not talking to strangers.
Keep important documents and emergency contact information easily accessible.
Childproofing accommodations and transportation
Inspect your accommodation for potential hazards and take necessary precautions to childproof the space.
Use outlet covers, corner guards, and door stoppers to ensure a safe environment for your children.
When using public transportation, ensure that car seats or booster seats are properly secured and follow the safety guidelines provided.
Ensuring the well-being of family members while traveling
Stay hydrated and encourage your children to drink plenty of water, especially in warm climates or during physical activities.
Pack a well-stocked first aid kit with essential medications and supplies for minor injuries or illnesses.
Prioritize rest and sleep, especially for young children, to prevent exhaustion and crankiness during the trip.
Conclusion
Family travel offers a unique opportunity for bonding, creating lifelong memories, and experiencing new adventures together. By choosing family-friendly destinations, implementing smart travel tips, engaging in exciting activities, and prioritizing safety, you can ensure a smooth and enjoyable journey for the whole family. So, start planning your next family trip, pack your bags, and embark on a memorable adventure that will bring your family closer than ever before.
FAQs:
Can I travel with infants and toddlers?
Yes, you can travel with infants and toddlers. With proper planning, essential preparations, and attention to their needs, traveling with young children can be a rewarding experience for the whole family.
What are some popular family-friendly destinations?
Some popular family-friendly destinations include Orlando, Florida, for its theme parks; Vancouver, Canada, for its outdoor activities; and Bali, Indonesia, for its beaches and cultural experiences.
How can I ensure the safety of my family while traveling?
Ensure the safety of your family by researching your destination, following travel advisories, teaching your children basic safety rules, childproofing your accommodation, and staying prepared with a first aid kit and emergency contact information.
What are some fun activities for the whole family while traveling?
Some fun activities for the whole family while traveling include bike tours, scavenger hunts, visiting amusement parks, and attending family-friendly theater performances.
How can I make dining enjoyable for the whole family during travel?
Choose family-friendly restaurants with relaxed atmospheres and kid-friendly menus. Consider local markets or food stalls for a variety of affordable options, and encourage your children to try local cuisine.
Must Read: Cultural Travel: Immersing in the Tapestry of Heritage Experiences